The importance of creativity
As in previous SIMO EDUCACIÓN editions, the Smile and Learn platform, hosted a series of workshops/talks, one of which drew attention to how digital storytelling can engage learners in creative thinking by means of building communication, collaboration, sound-literacy skills, critical thinking and highlevel ideas. Routinely, students' day-to-day classroom tasks comprise LOTs, but rather quite few […]
leer más...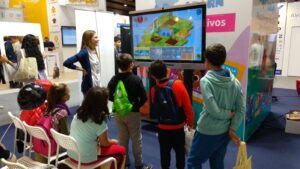 Smile and Learn in Simo 2018
Smile and Learn has participated one more year, in SIMO EDUCACION, an International Learning Technology Exhibition event, held from 13th to 15th November, in Madrid.    Our educational platform was hosted at a centre-located stand, brimming with novelty, a space where teachers and students have been able to try and enjoy more than 3,000 learning […]
leer más...
Game-based Learning With Handheld Devices
By and large, we are naturally better at games than we are at rigorous, painstaking studying. The deeper the concentration required when playing online games, the more intense the focus of the player. Games have words and numbers, but so do books. What is it that makes them different then? Let's go down memory lane […]
leer más...